Ibiza is one of my favourite holiday destinations. I've been travelling here for over ten years, each time discovering something new. Whether it's hedonism or holism you're looking for, Ibiza has something to suit everyone.
Beaches and Beach Clubs
There's no better way to explore the island than by hiring a car and giving yourself a few days to tour around. There are over 40 beaches on the island to discover, after all. Car hire is relatively cheap, but choose your insurance carefully so you don't get stung at the end of your trip. There are plenty of very narrow, winding roads to deal with particularly in the mountainous regions.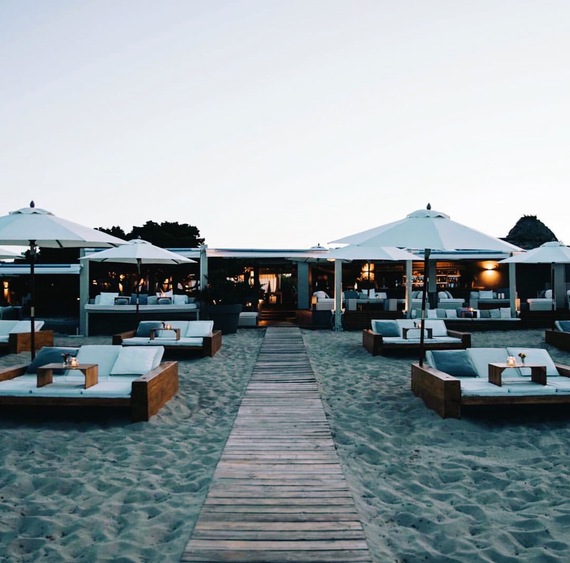 El Chiringuito at dusk
If you're looking for long lunches Jockey Club on Ses Salines, Amante and El Chringuito de Es Cavallet are some of my favourites.  El Chringuito does exceptional food, but you need to book in advance as it's immensely popular. If you like seafood, I recommend the sharing spaghetti frutti di mare. It's rich with locally sourced prawns, mussels and clams with a tasty garlic and lobster infused sauce. The portion for two is enough to comfortably feed four. If you like your meat, you can't go wrong with their slow roasted lamb shoulder or "Iberian secret", a lightly marbled cut of pork that's packed with flavour.
Amante Beach Club on the South East of the island is a particularly picturesque location – it's set up on a cliff above Sol D'en Serra Beach. Whether you come for lunch, sundowners or a romantic dinner, it's simply idyllic. Top dishes include their signature fish croquetas, the monkfish, king prawns and squid served with "sofrito marinero" and their succulent fillet steak.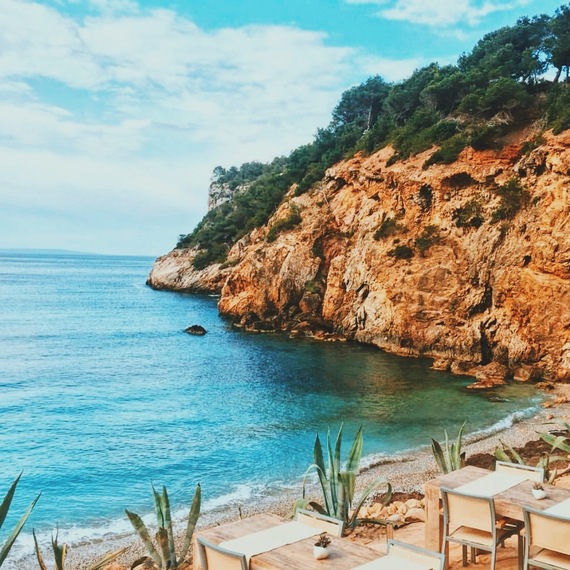 Looking down from Amante's restaurant
For a bit more of a party vibe, 
Cotton Club
 is a beach club located on 
Cala Tarida
. The menu is a fusion of Asian and Mediterranean with a wonderful selection of sushi. It's also an excellent place to people watch. If you're looking for the perfect sunset spot with cocktails to match the view, head to 
Experimental Beach Club 
on 
Cap Des Falcó
.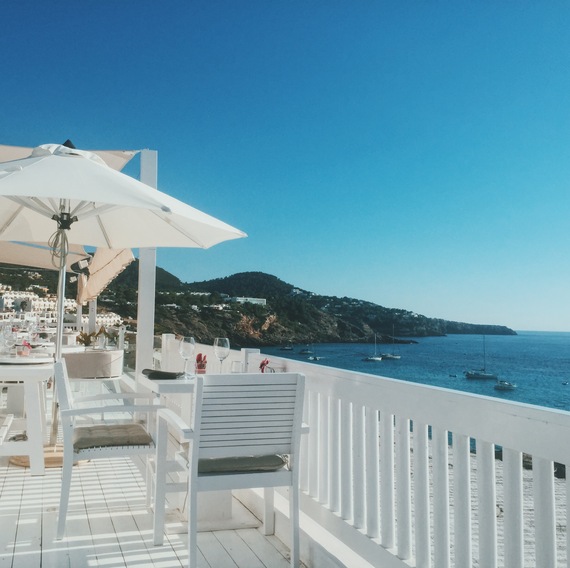 The view from Cotton Club's roof
If you like your beaches without the club,  Cala Mastella is one of the best and has an incredible seafood restaurant, Es Bigotes. It's rustic, authentic and famed for apparently once refusing to serve the King of Spain as he arrived without a booking.
Sa Pedrera, otherwise known as Atlantis, is another beauty found on the South West coast down a rocky trail. It's not an easy path, but it's worth the journey. The historic hotspot is laden with century-old carvings of extraordinary faces and other creatures across the rocky cliffs. As for the other 40 or so beaches, their secrecy is part of the island's charm. Go and spend some time in some of the more traditional bars and restaurants and get chatting to the locals.
Formentera
If you're staying for more than just a couple of days, Formentera is an absolute must. It's easily reached by ferry or a private yacht (if you're feeling lavish!). It's a heavenly world of white-washed houses and miles of sandy white beaches. It's paradise. If you're a competent driver, renting a scooter and driving around on its rough terrain is an incredible way to spend your day.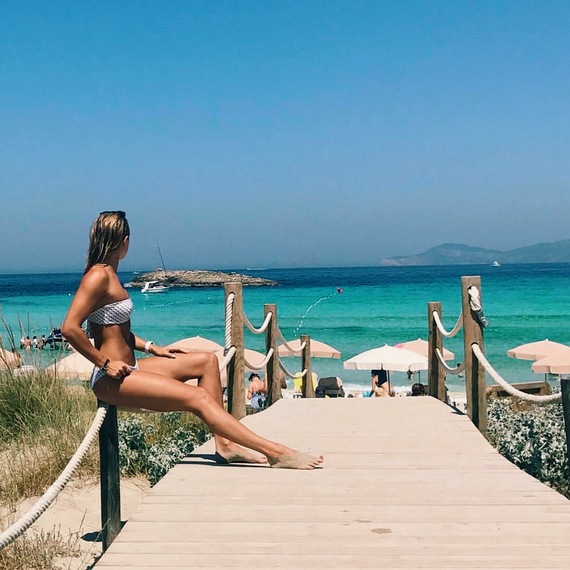 Outside Juan y Andrea with @heloisenangle
Ferries and catamarans leave Ibiza Old Town every 20 minutes. You can buy return tickets directly from the boat for €20 return – slightly cheaper than the ticket office – and you'll still get a discount on scooters. Tip – don't buy tickets from your hotel as they will charge extra. The average ferry is around an hour, but you can spend it up on the sun deck sipping on a €2 beer. Private excursions start at around €500 for a basic vessel and go up into the thousands for a super yacht.
If you're just popping in for lunch Beso Beach or Juan y Andrea are the perfect place for a long, lazy lunch with delicious food followed by a swim in the beautiful, clear water. If you're a seafood lover, try Juan y Andrea's sharing paella or their baked fresh fish. If you want to spend a night on the island, there are plenty of good options. I love Gecko Beach Club – it's pure luxury and has an insanely good chef.
Evening Dining
There's a vast range of restaurants and one to suit every palette.  Bambuddha Ibizais one of the best on the island. It's an all round wonderful culinary experience with some of the finest Pan Asian food I've tasted paired with fantastic service and beautiful surroundings.  STK Ibiza, is another restaurant that delivers a high-end experience. It's famed for its delicious steaks and an incredible raw bar.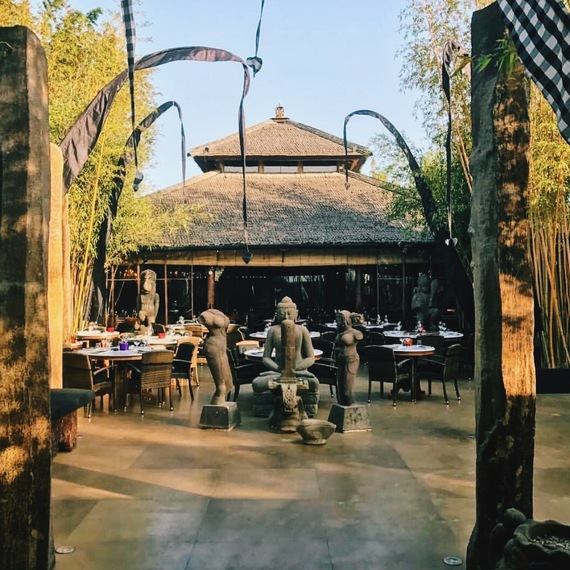 The quiet before the storm at Bambuddha Ibiza
Wandering around the Old Town gives me that real holiday feeling. I love exploring its web of cobbled streets and the multitude of boutiques. Down by the marina, there's a bustling market with jewellery and gift stalls. If you follow the roads to the top of Dalt Vila there's a beautiful 14th century cathedral, Santa Maria d'Eivissa. My favourite restaurant here is La Oliva where you can enjoy a Mediterranean menu on a candlelit table underneath the stars.  La Tana is another favourite with excellent food, wine and service. If you're looking for authentic, modestly priced tapas La Bodega, located beside the drawbridge, is hands down the best you'll find here.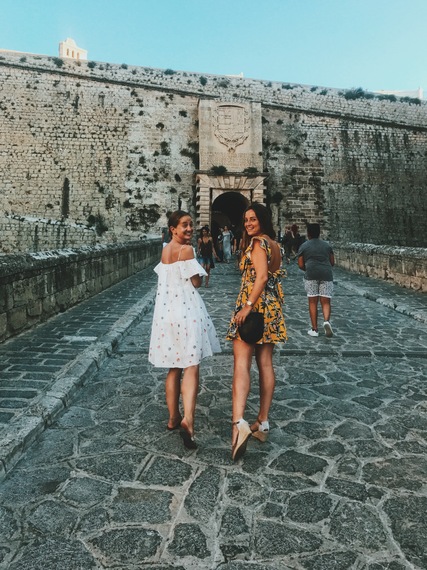 Walking up the Old Town's drawbridge
I often stay at my friend's apartment around Cala San Vicente towards the North of the island. On the far side of the beach you'll find a place simply called Restaurante and Chill Out – On The Beach. It's not high end luxury, but it's a wonderful place to relax or have an evening with live music. It's family run, and serve up some tasty tapas and juicy burgers with a chilled, but buzzing atmosphere throughout the day and night.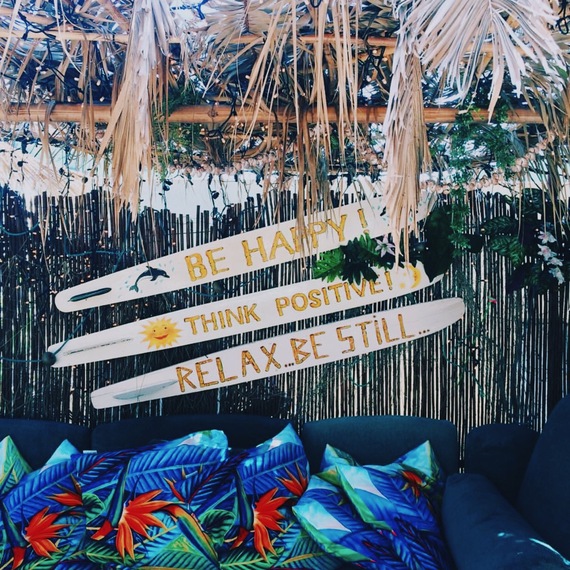 On The Beach – Cala San Vicente
In the nearby town, San Juan, you'll find one of my most-loved restaurants, Giri Café. It's part of The Giri Residence, a boutique hotel and spa. They use local, organic and sustainable produce, much of which is grown in their garden that surrounds you whilst you dine. The food is presented as beautifully as it tastes. I highly recommend the beef cheek wrapped in filo or the flame-roasted sea bass. They also serve up an exquisite breakfast with a varied selection of fresh juices, divine poached eggs sourced from Ibizan hens and, my favourite, home marinated salmon on focaccia. If you're feeling a little fragile from the night before, it's the perfect place to recharge and relax on one of their comfy outdoor beds.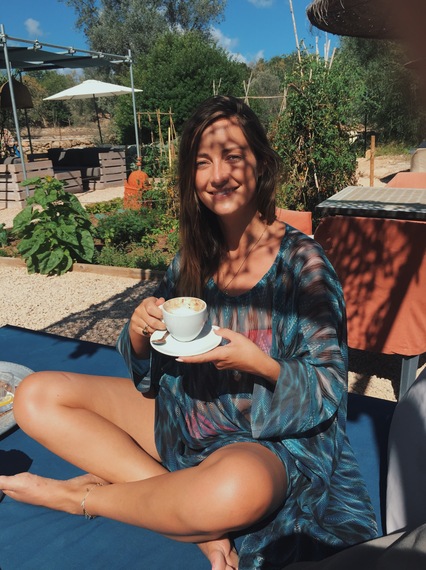 Recovering at Giri Cafe
San Juan holds a midsummer party every year, around the 23rd June. Hundreds fill the decorated streets to dance to live music and jump over a bonfire as part of a cleansing ritual. It's the perfect opportunity to hang out with the locals and experience one of Spain's great traditions.
Nightlife Highlights
Ibiza is the party capital of the world and, even if you're there to relax, it would be a shame to not experience some of the incredible clubs. Personal highlights for me include Circoloco at DC10, Together Tuesdays at Amnesia with residents Chase and Status, Disciples and Sigma, Ants at Ushuaïa, Guy Gerbers' Rumours at Destino, Solomun Sundays at Pacha and Elrow at Amenesia.
The ultimate opening of 2017 is Hï Ibiza. It may have replaced iconic superclub, Space, but it's been fully fitted with a state of the art Soundsystem and glows with giant LED screens and incredible ceiling displays. Even the toilets are mesmerizing. Residents include Steve Lawler, Hardwell, Steve Angello and Black Coffee. If you're in Ibiza over the weekend, head to Black Coffee on Saturday. I guarantee you won't be disappointed.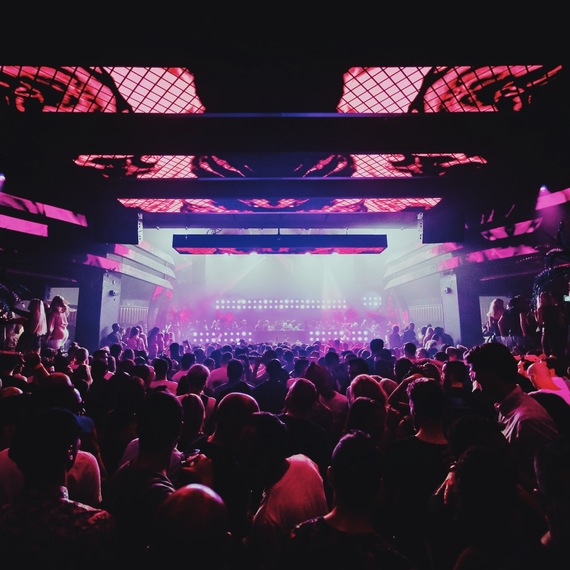 Hï Ibiza

The island has changed dramatically over the years, but its hippie soul is still there. Once you're off the airplane which, let's face it, is likely to have a drunken 'Brits on tour' group on it, you'll find some truly magical places. The island has an incredibly high-level of quartz in its soil – some say that's where it gets that special energy it's known for. And, whether you're wanting to come and explore or just want to have some hedonistic escapism, everyone is welcomed with open arms.
Check out my Instagram @francesca_ny for travel and fashion guides